Sana Juicer EUJ-707 by Omega
Brand:
Sana
Product Code:
EUJ707
Price: 450.00€
Ex Tax: 378.15€
Sana by Omega EUJ-707 horizontal juicer
The Sana EUJ-707 is the result of a collaboration between the American company Omega and the European company Sana. Omega has a long reputation for making some of the best juicers in the world, and Sana combines that expertise with products designed especially for European consumers. These two companies collaborated to create the best juicer for the Euopean market - the Sana EUJ-707.
Stunning design
The Sana 707 was designed to combine functionality into a pleasing design. The end result is beautiful. The soft curves and absence of hard edges really make this juicer stand out in a good way. Every aspect of this juicer is top quality. The materials used in its construction are best in class. The workmanship is superb - everything is manufactured to very fine and precise tolerances. It is obvious when you see this machine first-hand that it is extremely solid and well-built. And it's the only premium juicer available in a wide variety of colors. With 11 designer shades in three series - gloss, pastel, and matte - there is a color for every decor.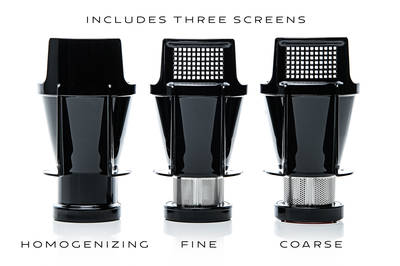 Three juicing screens for the ultimate flexibility
It comes with two types of juicing screens. Most horizontal juicers only have one juicing screen, plus sometimes a blank homogenizing screen. The Sana EUJ-707 includes both the standard fine juicing screen which makes very fine, clear juice, as well as a coarse juicing screen which makes a denser juice with more pulp. This coarse screen also allows it to work with softer fruits like berries and pineapple, something other horizontals do not handle. It also includes a homogenizing screen to make things like sorbet, nut butter, baby food, nut milk, pasta, salsa, and much more.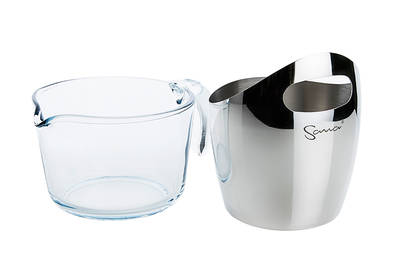 Top-quality accessories
Every juicer we've seen comes with plastic juicing bowls and pulp containers. The Sana 707 comes with a heavy-duty glass juice bowl with a custom strainer top, as well as a stainless steel pulp container
Simple construction, maintenance, and cleaning
The Sana 707 was designed to be as user-friendly as possible. It has few parts, no hard corners or hard-to-reach places. Cleaning the machine after juicing takes only 2-3 minutes - just rinse it under running water, and use the included brush to remove any pulp from the juicing screen.
Optional oil extractor
Make your own cold-pressed oils from a wide variety of seeds and nuts with the new stainless-steel Sana oil extractor. It was designed from the ground up to work perfectly with the Sana 707 juicer. Click here for more details.
Main features
Slow-speed single-auger system minimizes foam and oxidation
63-rpm quiet operation
Commercial-grade 200 watt motor with 10-year warranty
Two juicing screens for hard and soft produce
Stainless steel pulp container and heavy-duty glass juice bowl
Homogenizing screen for nut butters, almond milk, sauces, and more
Pasta set for a variety of noodle shapes
Wide feeding tube with large produce tray
Produced in South Korea
BPA-free construction
Parameters
Manufacturer: Sana Products

Color: available to choose in the Available Options

Country of origin: South Korea

RPM: 63 RPM

Dimensions: 42.0 x 18.7 x 32.0 cm
Weight: 5.7 kg

Warranty (motor / parts): 10 / 5 years

Juicing Process: Single auger
Write a review
Your Name:
Your Review:
Note: HTML is not translated!
Rating:
Bad
Good
Enter the code in the box below: