Twin Gear Juicers
How a Twin-Gear Juicer Works
A twin-gear juicer is also called a triturating juicer. To triturate means to rub, crush, grind or pound into fine particles. In this case, to crush, grind or pound the fresh fruits or vegetables finely to extract the juice, nutrients, enzymes and all.
A twin-gear juicer operates on this triturating concept. It has two gears (see picture below) that rotates inward with a very fine hairline gap of about 0.1 mm precision, crushing and grinding produce to extract its juice.
---
---
This action tears open the produce's cell membranes and releases its deep-seated nutrients and enzymes. It also breaks up more of the phytochemical from the produce, resulting in a rich-colored juice which is also richer in its nutrients and minerals.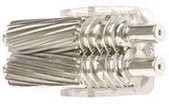 Like the single-gear juicer, a twin-gear juicer operates at a very low speed of about 80~160 RPM. At 160 RPM, it doesn't mean that the rotation is faster than that of the single-gear juicers that operate at 40~80 RPM. It could be about the same, just that the diameter of the gear is smaller, so it seems as if it's spinning faster to complete the rounds. It's like a tall person and and a short person walking the same distance from point A to point B. Both are walking the same distance just that the short person takes more steps to reach the destination.
This low speed rotation does not disrupt the cellular structure of the fruits and vegetables. It eliminates oxidation to the juices, therefore, preserving the precious enzymes and nutrients that are closest to its natural form.
---
---
Feeding leafy and soft produce is generally easy with this type of juicers, as they will self-feed as the gears rotate inwards. However, feeding hard produce like a carrot may be a bit challenging for those who have weakness in their arm (as in some arthritic patients). The trick is to cut the produce a little "slimmer" with an angle that goes in first.
The twin-gear juicers usually come with many attachments. Different attachments for when juicing fruits and when juicing vegetables. There might be pulp output control knob as in the case of Green Power, etc. and pasta-making nozzles. However, you don't need to use all of these attachments. Most people buy the twin-gear juicer to benefit from its superior quality juice, not to make pasta. Those who understand the superior juice quality extracted using a twin-gear, understand that they're getting premium results for the price they pay.
The juice yield from a twin-gear is slightly more than that of a single-gear juicer. Chances of oxidation of juices is almost nil and when used properly, foam is almost non-existent.
Showing 1 to 6 of 6 (1 Pages)